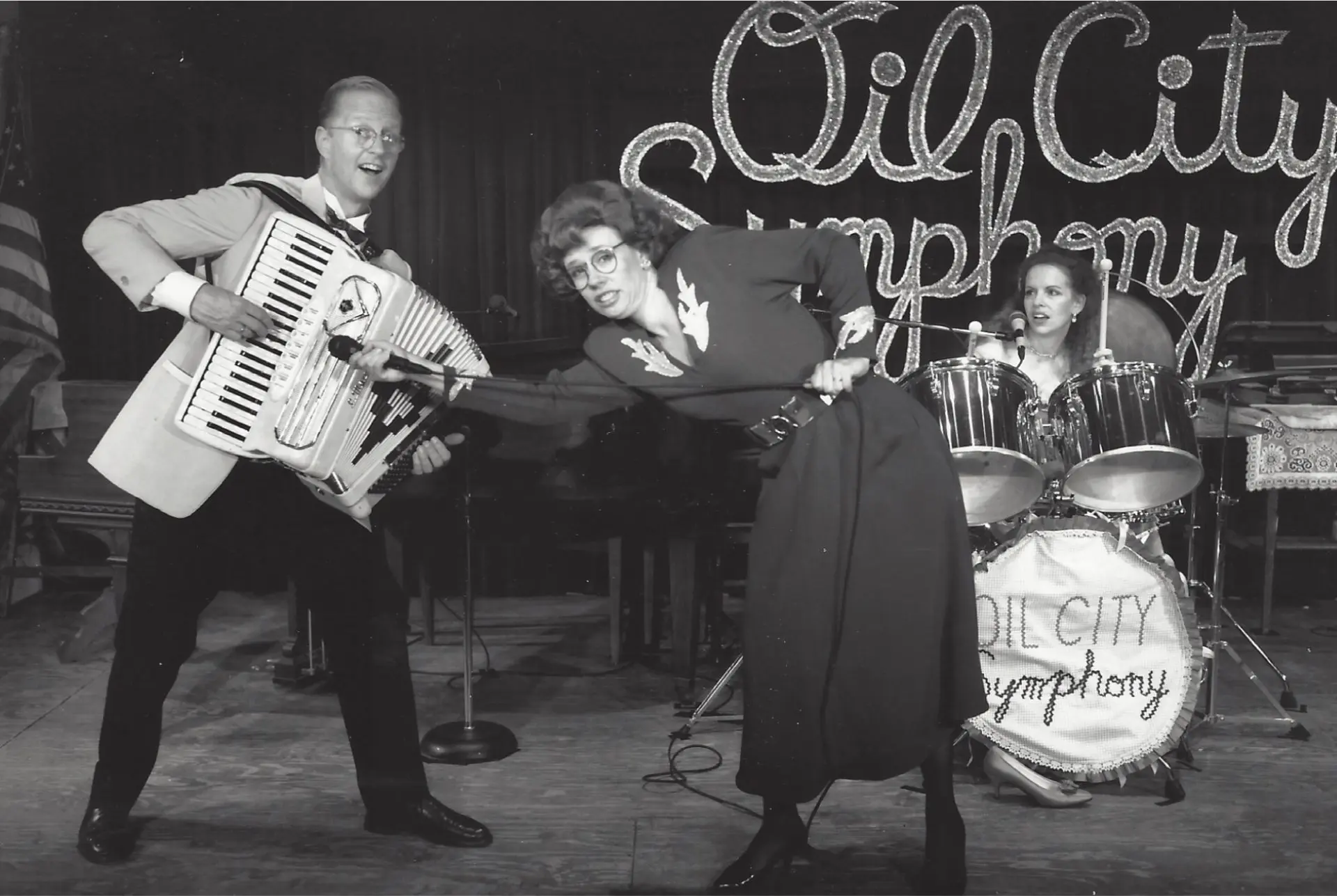 The History of Lake George Dinner Theatre
As told by cofounder Vicky Eastwood…
In 1968, I was preparing to be married when my fiancé, David Eastwood, had an idea to start a summer theater.
He had enjoyed being in the Glens Falls Operetta Club (now the Glens Falls Community Theater) production of How to Succeed in Business Without Really Trying where he worked with a new teacher in the Glens Falls High School, Bruce Jordan.
David felt that Bruce was an exceptional talent, and wanted to collaborate on a theater project for that summer. I was a science teacher in Saratoga Springs, he was working as an engineer at Rist Frost Associates, and between the two of us we had saved $700 for our honeymoon. Instead, Dave used the money to invest in the summer theater project. Bruce and Dave rented the Glens Falls High School theater for two weekends and produced Barefoot in the Park. The first weekend only a few people showed. I was back home in Wisconsin finishing plans for our wedding when Dave called and said "about that honeymoon – It might not happen." Fortunately, The Post Star came out with a wonderful review of the show and the second weekend enough people came to allow us to "break even." That was the start of the theater.
The next summer we moved to Towers Hall, the carriage barn for the Fort William Henry Hotel. It was a BIG empty space, and we cleverly (so we thought) bought 400 theater seats from a movie theater somewhere near Vermont. We were sorting through them when we realized that all of the seats had been on a raked floor and now we had to install them onto a flat floor. It was a nightmare trying to make them level by putting 2 X 4's and 1 X 4's under the back legs.
Neil Akins along with Jane and David Otoupal were our biggest helpers back then. With their support, plus that of high-school students Scott Clugstone and Terry Rabine, we got those seats up just in time for our second show, The Star Spangled Girl.
We were "The Towers Hall Theater" for those first eight summers, while Bruce lived with David and me. We were busy people – doing three shows a summer, children's theater, and a cabaret at the Fort William Henry Lounge after the shows.
Every night we would bring the cash receipts home with us (no credit card charges back then) and then in the morning I would count out the money on the living room floor and take the receipts to the bank. I remember one day when Bruce said he would help me by taking the deposit to the bank.
Luckily, I was outside when he drove off, because I saw a cloud of money flying from the car. He was in such a rush that he had mistakenly put the cash deposit on the roof of the car, forgotten it was there, and drove on to the bank.
There was a flurry of people picking up these bills as they "came out of the sky." I ran after Bruce and got him to stop- between the two of us we were able to recover the entire deposit as we told everyone that had caught the bills our story and they gave us back the money!
Vicky and David with their son, David Jordan Eastwood (named after his godfather, Bruce Jordan.)
David and Nan Veeder, the owner of Lake George Holiday Inn Resort, joined forces in 1976, and Lake George Dinner Theatre was born. Two years later, we aligned with Actor's Equity Association, the professional theater union.
In 1978, Bruce Jordan and Marilyn Abrams created Shear Madness on our stage. That show went on to become an international sensation and the longest running nonmusical play in American theater history!
Celebrating Shear Madness in Boston, 1980. From left: Bruce Jordan, Marilyn Abrams, Vicky Eastwood, David Eastwood
In 1991, my husband, David, was tragically diagnosed with leukemia and, after a year's struggle, died in 1992. I took over the reins as Producer. In 2008, I decided to retire as owner and producer of the theater. Terry Rabine, a longtime colleague and collaborator with the theater, decided to take the plunge to add "producer" to his resume of Equity actor and director.
He purchased the Lake George Dinner Theatre and directed the next steps in its evolution. For several years, Terry did it all… producing, directing and running all the day to day operations of the theater.
In 2016, he decided to incorporate the theatre under the not-for-profit umbrella of Lake Theatre Productions with the hopes of expanding the theater's offerings.
Today, LGDT still has the distinction of being the smallest, most intimate professional dinner theatre in the country. It is run by a very dedicated Board of Directors, Artistic Director Jarel Davidow, Administrative Director Amber Reitan, and Marketing Director Sylvia Bloom. We all hope you join us as we continue our mission of presenting (as we like to say) "Deliciously Fun Entertainment!"
Here's to another 56 years!!
Walk Down Memory Lane
An LGDT Timeline.
Shear Madness
By Paul Portner
Adapted by Bruce Jordan & Marilyn Abrams
Directed by Bruce Jordan
It's a day like any other in beautiful Lake George Village. We're at the Shear Madness Salon on Ottawa Street, when suddenly the lady upstairs gets knocked off! WHOdunit?!? Four suspects are interrogated by the Lake George Police- and one of them will be hauled off to jail.
Marriage is Murder
By Nick Hall
Directed by Jarel Davidow
Ex-spouses Paul and Polly Butler used to write murder mysteries together. Now Hollywood has come calling for an original thriller based on one of their old detectives. Can they avoid killing each other long enough to come up with a new story? Find out in this murderously funny comedy!
First Night
LGDT returns to Holiday Inn Resort Lake George, once again operating as a dinner theater after closing in 2020 due to the pandemic.
Buyer and Cellar
Starring Shayne David Cameris
2021 was LGDT's first year not operating as a dinner theater, due to the Covid pandemic. Buyer and Cellar was co-produced with the Charles R Wood Theater in Glens Falls for an abbreviated season.
Closed Due to Covid-19
First year since 1968 there was no LGDT production due to Covid-19.
The Hound of the Baskervilles
Jerry Finnegan's Sister
Jarel Davidow becomes Artistic Director
The Last of the Red Hot Lovers
The Great Kooshog Lake Hollis McCauley Fishing Derby
Lake Theatre Production Formed
The Lake George Dinner Theatre becomes a 501(c)3 Not for profit organization under the name of Lake Theatre Productions
The Complete Works of William Shakespeare (abridged)
The Love List
Jarel Davidow's first season with LGDT
Greater Tuna
Terry Rabine, long time actor and director for the theatre, purchases the Lake George Dinner Theatre from founder Vicky Eastwood.
I Oughta be in Pictures
David Eastwood tragically succumbs after a year long battle with leukemia and his wife Vicky takes over the theater.
Oil City Symphony
Following the 1990 season at the Holiday Inn, our production of "Oil City Symphony" was performed at The Egg in Albany, NY for a limited engagement.
Biloxi Blues
LGDT expands their season by performing a musical review "Jump For Joy" at the famed Sagamore Resort in Bolton Landing
Chapter Two
With the continuing success of "Shear Madness" David Eastwood, Bruce Jordan and Marilyn Abrams decided to take the show to Boston.
Shear Madness
"Shear Madness" was such a big 1978 hit, the theater did it again in this season.
Shear Madness
David Eastwood and Bruce Jordan collaborate on an innovative German show called 'Scherenschitt' which they quickly rename "Shear Madness".
RMS RIV VU
Producer David Eastwood and Nan Veeder, owner of the Holiday Inn, join forces and open the Lake George Dinner Theatre in the Holiday Inn of Lake George
An Evening with Mark Twain
The Roar of the Greasepaint – The Smell of the Crowd
The Effect of Gamma Rays on Man-in-the-Moon Marigolds
Love is Just Another Four Letter Word
You're a Good Man, Charlie Brown
Last of the Red Hot Lovers
Stop the World, I Want To Get Off
The Star-Spangled Girl
Theater moved to "Towers Hall" (naming it Towers Hall Playhouse). Presented 3 shows a season plus Children's Theatre and a cabaret in the Fort William Henry lounge following the evening shows.
Barefoot in the Park
Premiere Season of Neil Simon's "Barefoot in the Park" at the Glens Falls Senior High School.